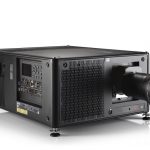 Nationwide Video has made yet another HUGE investment into laser projectors this month. We not only expanded our already extensive inventory of Christie and Panasonic lasers, but we also made a significant investment into Barco's UDX-4K32.
The UDX-4K32 is the most compact, high-brightness laser projector on the market, and yet another product that will greatly serve our subrental clients. With razor-sharp 4k images and 31,000 lumens, it is already in high demand and now in generous supply in our rental inventory.
Our full list of laser projectors includes:
Christie Crimson WU25 3DLP and D13-HD-HS
Panasonic PT-RQ32KU, PT-RZ31KU, PT-RZ21KU, PT-RZ12KU, PT-RZ770KU, and PT-RZ970KU
Barco UDX-4K32
Our continuous investment into rental gear that event stagers need to knock their clients' gigs out of the park is another example of how We've Got Your Gear. We've Got Your Back.
To learn more about our lineup of lasers, please visit: https://nationwidevideo.com/projection/laser/ or contact us at 800.935.2323