AV Upgrades: Which Ones Are Worth the Money?
Sometimes, a little bit more money in your AV budget can deliver a huge return on your investment and make a big difference at your event. And sometimes, spending more is just spending more. If you're not an AV expert, it can be tough to know what things are worth paying a higher price tag.
Here are a few tips to help guide you:
Your event experience starts long before the event begins
How are you inviting guests to your event? Email is so generic nowadays that it doesn't stand out.  It's easy to forget, but the event experience starts long before the doors open. The experience begins the moment your attendees hear about the event and a compelling invitation will cut through the clutter and lure people.
Video invitations are creative and attract attention, says Allin Foulkrod, CSEP, president of EPN member Creative Visions: "If it's for a nonprofit organization, the video could feature those you serve and talk about why you're serving them. For example, if you're raising money for a children's hospital, a video of four cute kids in the lobby, saying, 'would you come and help us raise money?'  could be very impactful. For a corporate event, you could have your CEO explaining the event and its purpose."
Make sure your fundamentals are covered first
AV should be a strategic part of your event and each aspect of the AV should help drive home your message. AV fundamentals for most events include sound, lighting and a screen or display for the presenter. Your audience needs to be able to hear the presenter, see the presenter, and view the visual presentation clearly. Once those basics are covered, then you can get creative with your AV partner to build a dynamic event experience.
Foulkrod says focusing on beautifying the space before making sure people can see the presenter on stage is tackling your AV needs out of order.
"Let's say our event planner was sold uplighting to enhance the room, but there's not enough lighting on the stage where the presenter is," Foulkrod adds. "Instead of spending $1,000 on the uplighting, the planner would have been better off spending $400 on stage lighting. A pretty room where you can't see the presenter is no good because when the audience can't see the speaker, it creates distrust and dissatisfaction."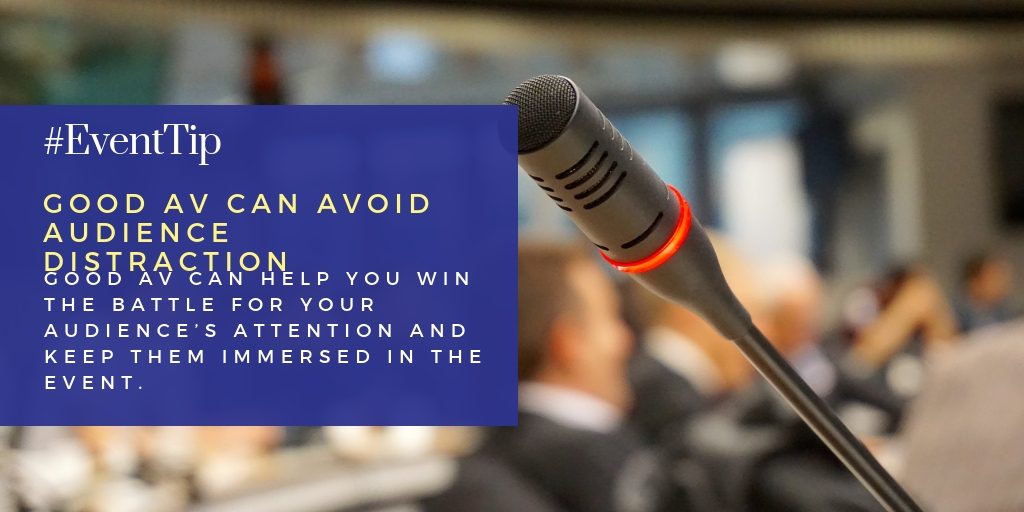 Good AV can avoid audience distraction
One of the greatest challenges for event planners today are their audiences' wandering minds. Distractions have always been an issue, but with smartphones, those concerns are multiplied. Good AV can help you win the battle for your audience's attention and keep them immersed in the event.
One way to do this is to shift during presentations. For example, your speaker talks for several minutes, then show a video, then ask questions to the audience. Shifts like these make the event more dynamic and engaging—thus keeping your audience's attention.
If technology is capturing your audience's attention, fight fire with fire: "Making sure you have the technology to avoid distractions is key," says Foulkrod. This means having skilled operators who can deliver perfect AV. Slip-ups like mic feedback for example, introduce distractions and encourage your audience to disengage.
If you're going to show video, you'll need a bright projector, or even better, an LED display. To take audience questions, a wireless mic is a must. With a competent AV partner, you can keep your audience's attention and ensure they soak up your message.
Beware of unscrupulous gimmicks
A common upsell technique among unscrupulous AV companies is to sell what they have available that day, rather than what you as the client need. This gets things out of order and means that gimmicks like room uplighting are sold instead of stage lighting.
Anything that doesn't help you tell your message at your event is going to be distracting for your attendees and is therefore extraneous. Invest in the priorities (good sound, lighting, and so on) rather than putting dollars where they will not bring value.
The AV should match the event it's serving. For example, a simple meeting probably doesn't need smart, controllable lights with all kinds of color options, while that may be just what a large gala needs for an immersive experience.
Also, some companies will sell things because they are used to using them. "We had a new client recently that was holding an event in a beautiful venue and they were going to pay $3,000 for pipe-and-drape around the room because that's what their AV company always did," Foulkrod says. "We said, 'Why cover up those beautiful walls?' Instead, we used $100 of pipe-and-drape and leveraged the beauty of the space the event was in."
Representing 30 major markets across the United States, Canada and Mexico, EPN has you covered, no matter where you are. Find your local AV partner here.