Why Elton John Uses LED Walls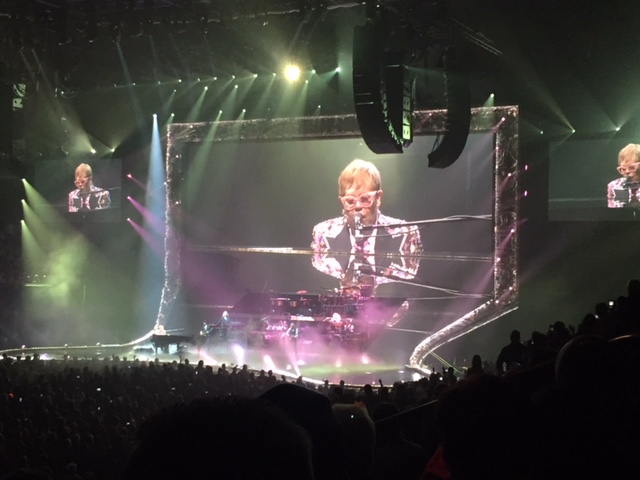 When showman pianist Elton John kicked off his farewell tour, his production crew knew that to grab people's attention and deliver memorable imagery, you need next-level sophistication. Enter LED walls.
LED video walls are made from a number of LED panels joined together to display content as if it were a single screen. Highly customizable and offering flexible design options, LED walls have many benefits over traditional projectors.
The choice for LED walls or projection comes down to what you want to accomplish: projection is typically used for presentations (e.g. a person speaking next to a screen with their PowerPoint slides). LEDs can replace projectors for this as well as open up entirely new options, such as being a part of the scenery and stage design as well as non-traditional uses such as retail window displays.
"The big difference between LEDs and projection is you don't have the limitations of being indoors in a controlled-lighting situation," said Johnny Jan, director of creative services and marketing at EPN member, CPR Multimedia Solutions. "With LEDs, the image is beaming right at you. It's a more vibrant and brighter image that makes it stand apart from projection technology. LEDs can be in any environment, including rain and bright sun, and you can still see the image from far away."
Projectors operate by shining an image onto a screen or wall and the projection surface reflects the image to the audience. To see the projected image clearly, you need low ambient light levels, as well as a clear line of sight between the projector and the screen. Hazards of projection include low-hanging light fixtures and errant attendees walking in front of the projector, or not having the space required for rear screen projection.
These restrictions tend to limit projectors to hotel ballrooms and other large indoor spaces where you can control the light levels and have the necessary space for the projector.
LED walls, on the other hand, free you from those restrictions. Each LED monitor emits light and displays the image directly to your audience. Since LEDs create their own light and are quite bright, you can use them inside or outside, regardless of how light or dark the space is.
In a standard presentation application, LED walls offer several advantages.
"We often use LEDs as traditional screen replacements," says Jack DeVries, director of sales and marketing with EPN member Showcore, Inc. "LEDs have smaller space requirements, so we don't have to worry about having enough throw space for a projector and they are so versatile. With LEDs, we're not limited to a 16×9 screen and we can create non-traditional screen sizes (ultra-wide or narrow), break the screen into a mosaic style or make a screen in the shape of a logo."
Outside of a projection screen replacement, applications for LED walls are practically limitless.
"We treat LEDs as a scenic element with video on it. For example, sometimes we'll build them into a 'growth bar,' with individual pillars of LED video of varying heights," said DeVries.
LED walls are modular, made up of individual displays that connect to form a single large screen. But, if you want, you can still use the displays individually and show separate images on each panel. Your configuration options are only limited by your imagination.
"You can make LED walls into any size or shape you want—circles, squares, curved walls—any kind of wall is possible," said Jan. "For event planners, this gives a better avenue to think about staging: The LED wall can be a part of the set design, or even wrapping around pillars. Planners can even use LED walls as the curtain on stage, raising and lowering the displays as needed for the event. LEDs provide a very immersive experience."
Whether your event is in a brightly lit conference hall or under the harsh noon-day sun in an outdoor stadium, LED walls can handle the ambient lighting and images will still appear sharp. With a projector, even a little bit of ambient lighting can render the images on the screen illegible.
While projectors can require a great deal of throw space, the space requirements for LED walls are minimal: just a few inches to accommodate the thickness of the screens. That's it—no projector in the middle of the room for people to walk in front of, or extensive "backstage" area for rear-projection systems.
Of course, projectors do still have their place—they are cost-effective presentation options and through techniques like projection mapping, they can really transform a space. Another effective way to use projectors is in concert with LED walls, where the projectors add effects to the walls around the LED displays and complement them for a richer event experience.
LED walls are a more complex event solution than a typical projector, but when you partner with a Rental and Staging Network member, you have access to the finest AV knowledge in North America. Comprising 25 of the AV industry's premier live event staging companies, EPN members are consistently chosen by event planners and producers when they need events that wow.
Representing 30 major markets across the United States, Canada and Mexico, EPN has you covered, no matter where you are. Find your local AV partner here.