Hybrid Event Planning: What Does It Entail?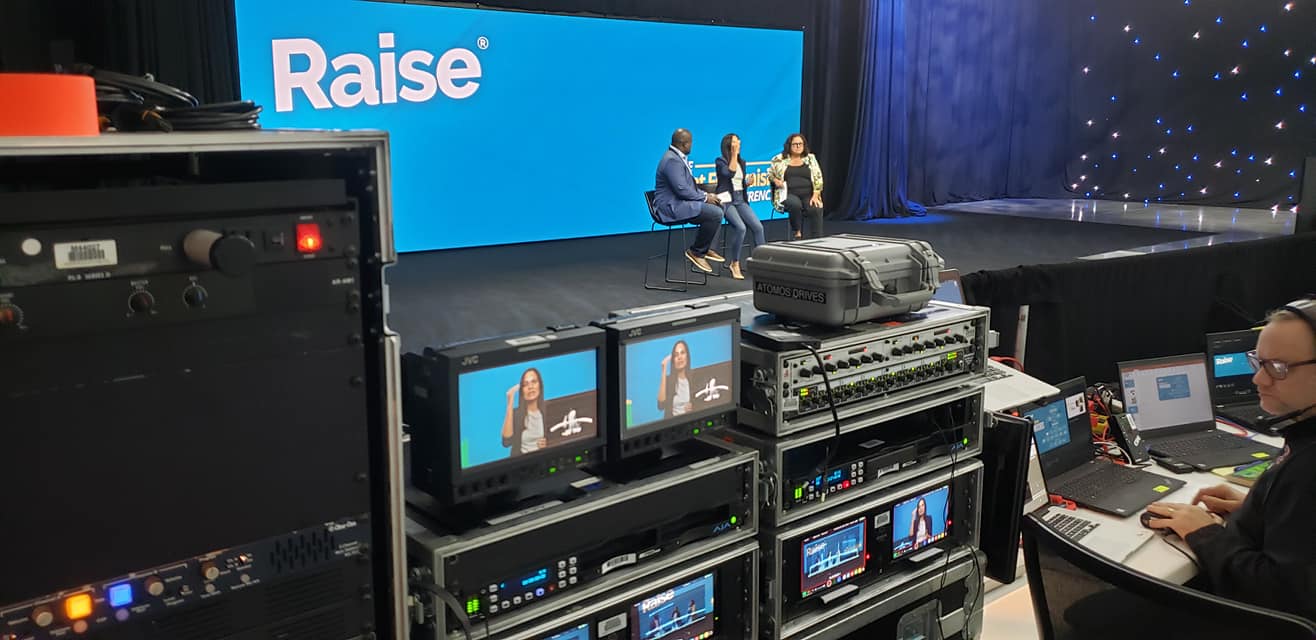 ---
(This story originally appeared in Meetings Today.)
By Mark Miller
Ask any hybrid meeting planner or event organizer.
Logistically speaking, a hybrid event should be plural. In other words, a next-normal hybrid event is two events—one live event, one remote event—that happen at the same time. This reality increases the risk and level of difficulty when it comes to communicating your organization's message to its masses.
On the flip side, the opportunity to reach a larger audience and add new streams of revenue truly exist.
Like any large, complex task, the outcome of your next hybrid event will come down to planning, which has changed considerably.
EPN, a North American network of premier AV companies, has delivered its first 1,000 hybrid events. Its members know what details shouldn't be overlooked to deliver a successful hybrid event:
More Moving Parts
The amount of planning and strategy leading up to a hybrid event has become an event itself. The new heightened expectations for the remote audience coupled with existing demands from a live audience has extended the planning cycle.
For internal events, the planning is beginning about two months earlier, where external events have added four months to the process, according to Caleb Bull, event producer at Colortone Staging & Rentals, an AV company in Cleveland. Bull assesses each event in the planning stages based on four critical components: 1) audience, 2) event goals, 3) the group's desired virtual platform and 4) pre-event planning. And if any of those key areas don't seem to jibe, Bull's team will collaborate further with the event planner. "If the platform doesn't match the desired goals, then we will dig deeper," he says. "The four areas have to come together and make sense."
Bull says his clients' audiences, which are mainly trade associations, have a growing expectation for "no-excuses" access to information, which presents a large opportunity for organizations that want a larger reach for their message. "The decision to offer your content—either in real-time via virtual platform or on-demand post-event—can put you in front of an audience you may not have been able to reach otherwise," he says.
And that will call for more planning.
Longer Term Relationships
Hybrid events have turned every conference or meeting into a doubleheader because the online audience has been upgraded into "business class," along with the in-person attendees. While that change can be significant, so can the price.
To make their new hybrid events better fit their existing budgets, meeting planners and event organizers are striking long-term deals with partner AV companies to receive a lower unit cost per event. This trend has become a material part of the new planning phase.
The new hybrid format has driven pre-production costs from 30% of the total bill to nearly 70%, according to Patrick Phaneuf, vice president of sales and marketing at Les Productions Expert'Ease in Montreal, Quebec. He says 40% of his new clients have agreed to long-term arrangements to secure lower overall costs through scale.
The level of detail has become more complex as the industry moved to hybrid formats during the pandemic. Time spent on event preparation has tripled. Phaneuf has created a formal, four-page intake form that clients must fill out before they proceed, establishing clients' expectations upfront and a common language throughout the planning phase.
Since March 2020, Phaneuf's AV teams have delivered 200 virtual events to 70,000 attendees. He says the company has embraced the concept of continuous improvement. "We add virtual experiences to the live event," he says about the hybrid events. "We don't try to replicate."
More Unique Content
The shift to hybrid events that make the remote audience feel included has created a much larger demand for all types and forms of content.
Premier AV companies have found creative ways to intentionally treat the online audience like the live audience in a manner that generates new types of revenue for its clients. A number of sponsorship packages, including pre-designed graphic treatments, are now a bigger part of the planning phase than before the pandemic, according to Brad Poarch, who is CEO at Cory's Audio Visual in Oklahoma City. His team fills once-awkward transitions between speakers for the online audience into paid sponsorships for his clients. "It's the same messaging but it's presented differently to each audience," he says.
When educating prospects about upcoming events, Poarch uses a sports analogy. He says sporting events were some of the first hybrid events in history. For example, you have some people who go to the game so they can do the wave in the stands, smell the popcorn and take in all the energy from fellow attendees. And then you have the fans who stay home and watch the game on a screen, listening to play-by-play commentators and watching the advertisements. While it's the exact same game, it is not close to being the exact same experience.
"Think about the remote audience as just as important as the live audience," Poarch adds. "That's where it all starts."
More Intermissions
While remote audience members have received a lot of attention during the latest phase of hybrid events, there has been one concession made for in-person attendees. More breaks wedged between shorter, more concise content work when it comes to retaining attention. As a result, scheduling more intermissions has become an important part of the planning phase.
Jessica Treneer, client services manager at Crescent Event Productions in Charlotte, North Carolina, says her clients schedule breaks every 90 minutes, which ramps up engagement throughout the event. She says presenters are still adjusting their content to the new normal. "It's a bit of a learning curve, but it's been well received by both audiences, especially the in-person audience," she says.
And when keynotes go off script and try to stretch their segment, Treneer will hear about it through chat messaging, which she monitors. As a former Disney team member, her heightened customer-service side takes over to keep the event's flow moving smoothly. "I want to cater to everyone's needs," she says. "I don't say no often. I want to make the magic happen for both audiences."
There are many factors to consider before adding a hybrid component to your event including your budget (increased costs and new or revised revenue streams to cover those costs), the impacts on in-person attendance goals, and your attendee profile i.e., their proclivity for technology or expectations for virtual access. Once you have made the determination that offering a hybrid event supports your event goals, it's time to start planning. Early. Based on EPN's recent experience creating best practices around the continent, here are more than 25 key AV questions that meeting planners and event organizers need to ask when initiating a hybrid event plan with their AV partner:
Budget / Scope of Event
What is the budget for the event?
What features will the planner's budget allow for, as examples

Limited to simple live streaming of presentations
Can video content be developed and incorporated
Can pre-recorded content be done (speakers, acceptance remarks, President remarks, etc.)
For live streaming, will there be a stationary camera or can multiple cameras with multiple angles or robotics be utilized?

Can sponsors be incorporated into the program to drive revenue and cover the additional costs?
Audience
Who and where is the audience?
Number of attendees?
What is the anticipated percentage of virtual vs. in-person attendees?
Is there a pre-determined platform that the virtual audience will use?
How are the virtual and in-person audiences interacting with each other?
How is the virtual audience interacting with the presenters?
How are in-person attendees interacting with the presenters?
Is there an in-person registration platform? Can it be connected to virtual platforms?
Presenters
Where are the presenters? How many presenters are participating in the event?
How many are presenting in-person and how many are presenting virtually?
Are any keynotes or presenters expecting a pre-recording option?
What technology will the virtual presenters use?

Are the virtual presenters tech savvy?
Do they have technical support, or will they need the support of the AV company?

Will exhibitors/sponsors conduct presentations?
Rehearsal Time
Can the presenters and emcee be booked for significantly more rehearsal time than on previous events?
Can virtual presenters be booked for show-day arrival for connection testing well before their presenting time?
Are the show organizers and key group VIPs, emcees or leaders prepared to be involved in advance rehearsals?
Agenda
How does the agenda flow?

How many presenters/sessions have been scheduled?
How many pre-recorded sessions are there versus live speakers?
How much time is there between sessions, including buffers for virtual transitions?
What is the duration of each session (consider shorter sessions)?
How many breakouts are scheduled? How many concurrent breakout tracks are there?

Have time zones been factored into the agenda for the remote audience?
Content
How will your content differ for each viewer?
How much content can be pre-recorded?
What does the remote viewer need to see that the person in the room sees?
What video content can be incorporated?
Engagement
How do you want to engage each audience member?
How can remote audiences be engaged during in-person event breaks?
Delivery
Who are the announcers talking to? Are your emcees savvy about engaging with and directing remarks to both audiences?
Will your AV team be contracted to "call the show"—both virtually and in-person? This position is more relevant now than ever before as seamless transitions are integral to a good remote experience.
Do you have contingency plans for day-of challenges such as those that may arise with technology, presenters, etc.?
Do you have ample staff available to support your virtual audience (connectivity, engagement)?
Platform
What platform should be used based on desired outcomes?
Does the platform need to accommodate exhibitors or sponsors?
What is the level of virtual audience interactivity needed through the platform?
(Mark Miller is president of the Rental & Staging Network as well as president of Markey's in Indianapolis.)
Want to Learn More About Hybrid Events?