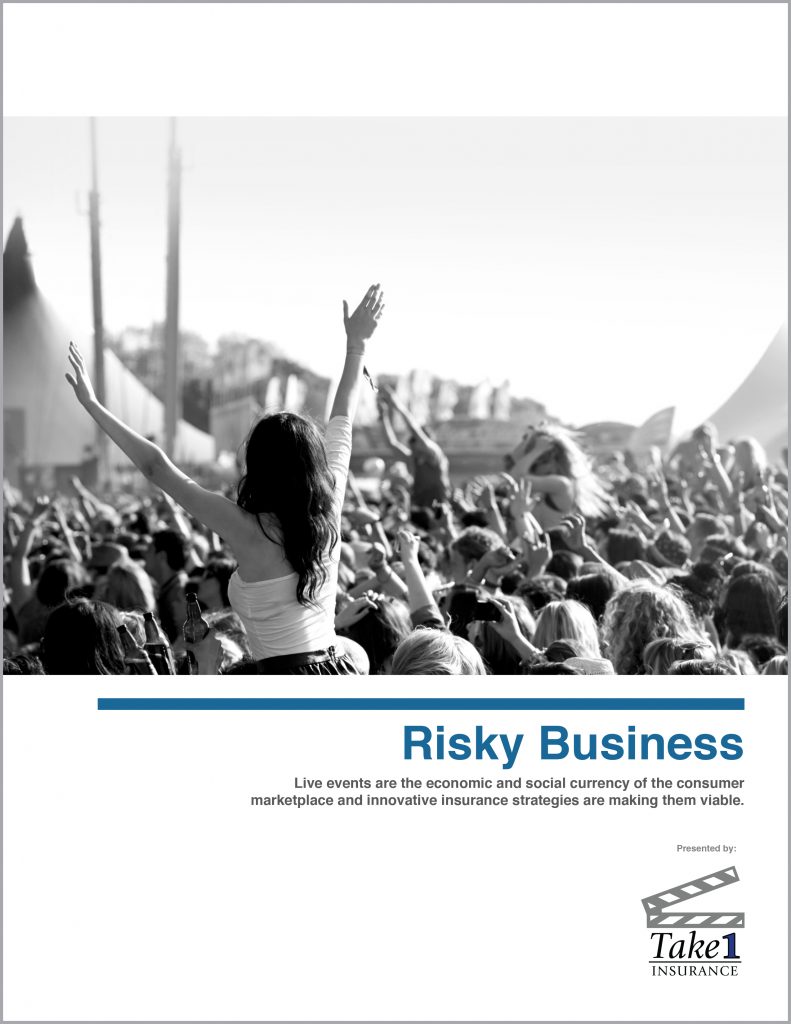 Reinforcing its commitment to provide the live event production community with a body of information to help them prepare for the growing range of risks that challenge live event professionals, Rental & Staging Network sponsor Take1 Insurance is offering a new free white paper entitled "Risky Business."  To view the white paper, click here.
"Risky Business" explores how live events have become the economic and social currency of the consumer marketplace and how innovative insurance strategies are keeping them viable in the face of a growing range of risks.
"There has been a tectonic and well-documented shift in consumer values away from things in favor of experiences that generate a sense of happiness and wellbeing," Take1's Scott Carroll explains. "Spending on a variety of types of experiences, like travel, leisure and food services are projected to rise to an astounding $8 trillion by 2030 globally."
And within this massive movement is an even more important trend: the growth in popularity and value of the live event. From concerts and cultural events to sporting events, from corporate conclaves to brand messaging affairs, being a participant of the live event, as a fan in the stands or a concertgoer in the club, has supplanted material accumulation as that which we as a society aspire to. This shift has translated into very big business. Music concerts now generate over $28-billion in revenue annually, according to Carroll.
Carroll says that the industry had to come to terms with the fact that the risk exposure is indeed great enough to justify the expense of having the right insurance coverage in place.  "Take1 constantly thinks about how live event Insurance may change as a result of events around the world like Route 91, and we involve ourselves in that dialogue from the live community's perspective. We have shared, and will continue to share, what we learn from each of these unfortunate events.  In the meantime, the community needs to carefully review their policies with their insurance agent to make sure they are completely protected against the kinds of risks we face today."
U.S. Risk's Take1 division has been servicing the insurance needs of the film and television production industry and has expanded significantly to meet the needs of audio-video and communications industry clients as well. The company's experience includes underwriting film and television production companies, DICE (documentary, infomercial, commercial, educational) producers, touring entertainers, concert/playhouse venues, concert promoters, video game developers, and specialty rental operations focused on audio, visual, lighting, sound, grip, and production. For additional information, visit Take1 Insurance.