5 Best Practices for Engaging Multi-Generational Audiences
Much has been made of the fact that there are now five generations in the workforce. While organizations continue to adapt to this, events are an often-overlooked area for engaging different generations together. We are social beings and events literally bring people together.
Hosting an event that will appeal to a wide range of ages may feel daunting, but it doesn't have to be. The key is in engaging people and most people want similar things. One solution to captivating audience attention lies in your AV.
Well-orchestrated AV is the glue that holds your event together from the audience perspective. At every event, you're competing with the entire world on a smartphone, so dynamic AV can make all the difference between an enthusiastic audience and an audience that's present in body only.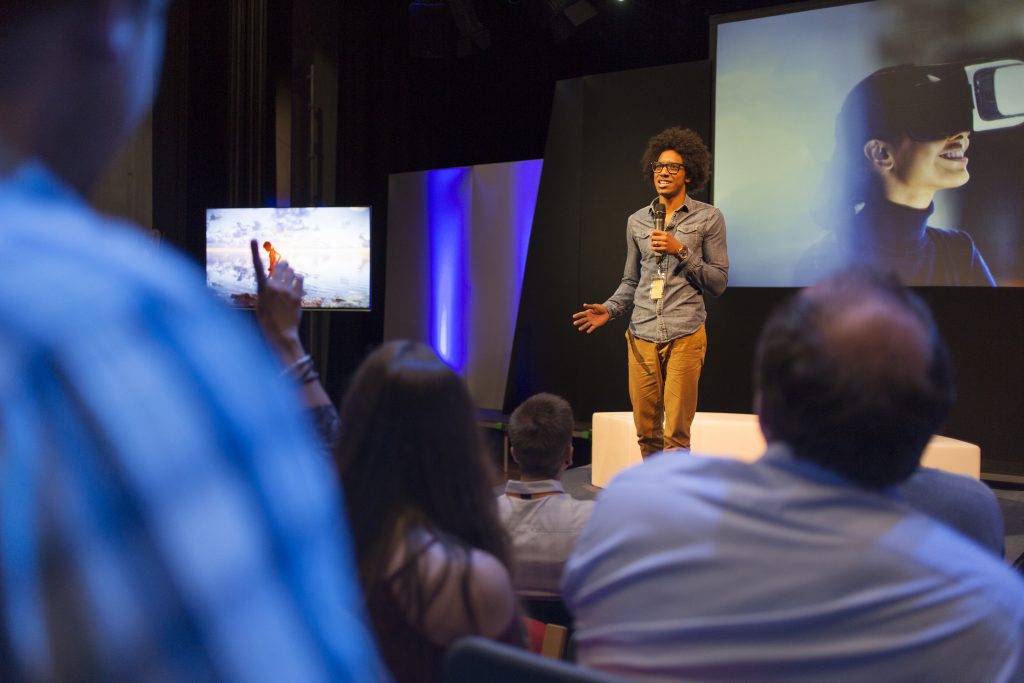 Best Practice #1: Go big or go home with stage design
Regardless of their generation, everyone enjoys an engaging presentation. If you don't go big with your stage design, your audience may (mentally) go home. Your stage is the first thing people see when they enter a room. It sets the tone for the event, long before the presenter starts talking.
"Simple stage design is a turn-off," says Patrick Brochu, director of show services at EPN member, Media Stage. "When people walk in and see a dynamic stage, they think, 'I thought I was walking into a business meeting, but something exciting is going to happen here!' The stage design gets people excited for the event."
Investing in your stage design is great, because it's approachable by everyone. No one needs to be smartphone proficient to appreciate the stage.
"The stage is technology that doesn't require audience savviness to use," says Brochu. "Everyone likes a cool stage and it gets everyone excited."
Best Practice #2: We all want our moment of fame
No matter how diverse an audience is, don't forget it's full of real people, not generations. People tend to have similar interests and desires and that includes being seen.
"In my experience, people generally want the same things from an event," says Joe Kinney, creative design at EPN member CMI AV. "They appreciate engaging information and they want to see themselves and their friends in the photos on the screen."
AV gets the message to the group and leveraging names or photos of attendees, such as through a live feed from social media or the event's mobile app, is a fun way to keep the group captivated. "When you bring attendees on stage—literally or virtually—it really gets everyone engaged," adds Kinney. Otherwise, they are likely to be in their own private worlds on their phones.
Anything in the event can be used on the screens, according to Chip Lacure, business development at CMI AV:
"We've seen clients doing hide and seek competitions, scavenger hunts, giving prizes and awards, any kind of recognition—that can all be parlayed onto the screen and make interactive content during the event," he says.
Best Practice #3: Different generations want different things
There's no denying it—different people often want different things from their events.
"Older audiences are open to new technology, but it's not as important to them as clear messaging," says Brochu. "They may be fine with a traditional, one-sided stage with one or two screens for a lecture-based event. Gen Xers tend to be more hands-on and value smaller group discussions. More talking among themselves than listening to a lecture, so we incorporate that into our stage design.
"Gen Yers are usually more tech-savvy and into games and interactive content. They also have higher expectation—where an older audience might be impressed by an ultrawide screen, Millennials think that is normal," continues Brochu.
Aside from set design, AV can help drive new event formats so there is something for everyone. For example, instead of long presentation blocks, Brochu suggests breaking them into shorter pieces:
"Instead of an hourlong lecture, have two speakers talk for 20 minutes each and then have a conversation between the two of them and a moderator on stage." In between the sections, you can play short videos and other interactive content. "It gets people excited and involved," he says.
Best Practice #4: Don't rely exclusively on smartphones for audience response
Using an audience response system (ARS) is a fun way to make an event interactive for the audience. Available as keypad devices, mobile apps and texting numbers, they let the audience get involved. For example, "Ask the Audience" on Who Wants to Be a Millionaire? uses keypads.
Chances are that most of your audience will have smart phones (Pew Research found 77 percent of American adults have one) but that doesn't mean you should rely on them exclusively for audience engagement.
"Using a phone as an audience response tool brings baggage that will alienate some people," says Kinney. "Not everyone wants to use their phone or can. With keypads, everyone has the same technology. Plus, if the audience didn't download the app in advance and then suddenly, 500 people need to get the app, it taxes the wi-fi and takes 10 minutes away from the event while everyone tries to download it and figure out the app."
Best Practice #5: Leverage history and the classics
Just because something is old or low-tech doesn't mean it's useless. Ultimately, the goal of AV is to deliver an engaging event and capture an audience's attention.
"We have an event that has a flag presentation," says Lacure. "It's done with bagpipes and that's a 100-year-old tradition. AV is not different than that to get people engaged."
Splicing old and new together—like bagpipes in a contemporary event—can reach across all demographics in an audience and keep their attention. Appreciate the classics—they aren't "moldy oldies."
Younger generations may prefer more technology than older ones, but everyone likes an engaging presentation. AV done right can bring everyone together. Your AV partner will have more recommendations on how to appeal to multigenerational audiences.
The Rental and Staging Network is comprised of 25 of the AV industry's premier live event staging companies. EPN members are consistently chosen by event planners and producers when they need events that wow. Representing 29 major markets across North America, EPN has you covered, no matter where you are. Find your local AV partner here.