The Value of Meetings Nears $3 Trillion Globally
Global Meetings Industry Day (GMID), which takes place on April 4, celebrates the industry's enduring business value and its $2.65 trillion in global economic impact. Independent audio-visual companies, such as the members of the Rental and Staging Network, play a vital role in the meetings industry, bringing thousands of meetings to life annually with stunning sound, dynamic visuals and a little magic.
Event planners continue to invest in their meetings with surging amounts of direct meeting spending. Spend for the category hit $325 billion in the United States alone in 2016, according to a recent study. This is a 23 percent boost since 2009.
Of that $325 billion, half (51 percent) went toward meeting planning expenses and production.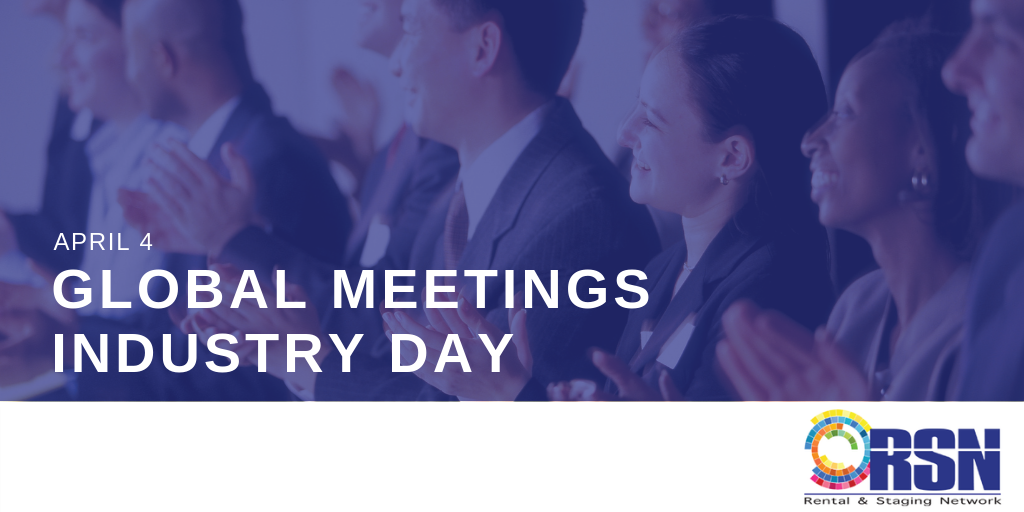 AV technology brings events to life and delivers the messages of millions of clients in memorable, engaging ways every audience is sure to remember. When broken out by category, audio-visual/staging services accounted for $28.549 billion (17 percent) of the direct meeting production costs.
With almost 30 of the AV industry's premier live event staging companies, the Rental and Staging Network members produce more than 7,000 events annually across North America. Solutions include complete consultation, design, technology execution and support services to deliver stand-out live events.
The right AV partner can make or break your event. When choosing an AV vendor, you typically have two choices: the venue's in-house AV company or an independent provider. An independent AV company, however, delivers more value for every dollar spent:
1. More Value for Your Dollar
Whether you measure cost in terms of price paid or in value provided, going independent can deliver a better overall event. For starters, independent AV companies are not beholden to the venue and don't pay commissions to the venue. This freedom allows outside AV partners to provide the same service at a lower cost or more comprehensive service for the same cost.
"The difference between us and the in-house types is our intense focus on customer service surpasses them by leaps and bounds," said Bradley Ehrlich, general manager of EPN member Markey's Rental and Staging. "We invest a great deal more money in our equipment and people than they will. Our ultimate goal and differentiator is we are true partners when it comes to an event. We've worked with certain customers for decades. We can anticipate their needs and offer solutions before they even realize they have a problem. The best show for us is when we are unnoticed because everything looked and sounded great."
 2. An Extension of Your Team
An outside AV company can act as trusted advisors and function as an extension of your team. This level of service just doesn't exist with the in-house AV crew, because they have different goals than your independent AV partner:
"The in-house AV company is there to facilitate the hotel's AV," said Troy Peters, vice president of marketing and business development at EPN member company, Video West, Inc. "We're not just video engineers—we train our staff to understand the ultimate goal of each event. Sometimes we even wear our clients' shirts and badges so we look like part of their team."
3. Consistency Across Time and Space
In-house AV people don't leave their venues. Often the in-house AV crew is part of a large national or international AV company that supplies hotels and other venues with AV personnel and pays a commission to the hotel on new business.
If you need to host an event in a different venue or area, the in-house AV company may be the same company, but you'll be working with a whole different set of people. With an independent AV company on the other hand, you can benefit from working with the same team for years, anywhere across the North American continent.
"We never have a situation where a group is planning an event and then someone else that the customer doesn't know shows up to run the event. The big in-house companies are too big to offer that kind of customized service," said Jack De Vries, director of sales and marketing at EPN member Showcore, Inc.
"We add more value to our customers by making it easy to travel to another state as their core AV team. They can take that knowledge base and AV partner anywhere they want. And with EPN, we can go anywhere in the United States, Canada and Mexico for our clients," continued De Vries, "because we can source trusted EPN member gear and tech resources anywhere we go."
Event and meeting planners pull off almost two million events each year. To create unforgettable impressions on audiences, planners need to partner with the most advanced technology and seasoned professionals.
The total economic impact of meetings is significant to the United States economy, with 251 million meeting participants attending 1.9 million meetings in 2016, according to the report. The meetings industry contributes more to U.S. national GDP than the air transportation, motion picture, sound recording, performing arts and spectator-sport industries, according to the Meetings Mean Business coalition. It is a true economic engine.
Meetings produce $249.2 billion in total labor income, create 5.9 million total jobs, including those at EPN member companies, and generate $104.5 billion of taxes, including $41.4 billion in state and local taxes and $63.1 billion in federal taxes, according to the report. The total tax impact of meetings per US household was $879.
All EPN members are industry-leading audio-visual experts who can assist you in bringing your event vision to life. Find an AV partner near you today.