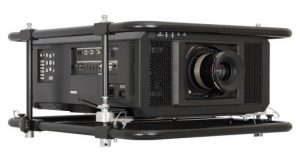 Your Resource for Laser Projection and accessories… Along with Everything else!
Nationwide Video has been considered the projection experts for 20 years and we're not slowing down. We continue to maintain that level of credibility and expertise by stocking our inventory with the latest and greatest laser projection technology and staying on top of all of the industry's technology trends. We are now renting 8 different laser projector models from Christie and Panasonic, along with fly hardware for all models, and a deep inventory of lenses including the .36:1.
Did you know that we carry all of the items you need for breakout rooms? Here's a look at just some of what we stock to support your next large breakout show:
Christie LWU501i
Christie LWU701i
Da-Lite 8' Tripod Screens w/ skirts
Computer and Ipads
Wireless mics….ULX-D and now Axient
Gooseneck Mics
Mackie 1402s
PC Direct Boxes
Additionally, don't forget about our Technical Training Courses. All courses are free to EPN members. For more information go to www.nationwidevideo.com/training/ and use promo code "EPN".
New notable items ready to rent:
Panasonic PT-RZ21KU laser projector
Absen M2.9 LED
Newtek TriCaster 8000 – Rig includes: TriCaster control surface, (2) 24" monitors, Sierra 16×16 HDSDI Router, 16port Switch, (2) Decimator MD-CROSS V2 Converters, Furman PL-PLUC C Power Conditioner
Shure Axient wireless mics
Disguise gx 2 media server
It was great to see everyone in Rochester!