Keynote perfection: 8 ways to avoid general session glitches

Keynote presentations and general sessions—they're the crown jewels of your event. All eyes are on the stage and everything needs to be perfect.
But… sometimes things don't go so well.
Ask any planner and they'll regale you with horror stories of events gone wrong. Fortunately, most of the things that can go wrong with a general session are avoidable with proper preparation.
How do you avoid disasters, large and small with your keynote sessions? The experts at the Rental and Staging Network (EPN) recently answered these questions in a presentation at WEC 19, the annual conference put on by Meeting Professionals International (MPI).
Steven Halling, president and CEO of AVFX, and Eric Newkirk, vice president of design and creative at CEAVCO Audio Visual, took the stage in Toronto to offer hard-earned advice from their storied careers in event staging. Here are 8 takeaways from their presentation you can use to pull off your next keynote without a hitch:
Make presenters feel comfortable
It all comes down to the presenter. If they aren't comfortable, the keynote session won't go very well. When it comes to making presenters comfortable, it's all about nailing the little details. For example, when women are presenting, it's good practice to have female members in the staging crew available to help presenters get mic'd.
Create positive impressions
Presenters need to know that the staging crew will take care of them and have everything under control. The crew typically doesn't get much time with the presenters before they walk on stage, so it's essential that the crew deliver a stellar first impression in the few moments they have.
The technical crew will look to the meeting planner for a schedule of when the on-stage talent is coming to be mic'd and rehearse. Knowing in advance when the presenters are coming will ensure they are prepared and ready to accommodate them. This is important because if the staff interfacing with the talent gives any cause for concern to the presenter, it'll be a challenging start to the day.
Give the AV crew the presenters' riders well in advance
Presenters and entertainers often have very specific requirements for the equipment they need. This information will be in their rider. Make sure your AV partner has this information well in advance so they can accommodate these requirements and make the presenters feel comfortable.

Provide presenters with clear direction on where to go
Make sure to give the on-stage talent very clear instructions on where they need to be when. They'll feel more at ease if they know where to go to be mic'd and so on. This is best done in a green room or backstage area, rather than the event floor, to give the presenters a modicum of privacy.
Review stage and lighting set-ups beforehand
Part of any rehearsal should be a run-down on how the stage and lights will be set up. Otherwise, the presenter may walk out on the stage and be surprised by the bright lights. Even experienced speakers will take a step back when they get blasted with the stage lights in their face if they aren't expecting it. Avoid this kind of slip-up by not thrusting the presenter into the environment and surprising them.
The meeting agenda isn't a stand in for a show flow
The agenda is a simple document that lists the presenters, times and maybe a few special notes. It's more detailed than the attendee program, but it doesn't have anywhere near enough detail as your AV partner will need.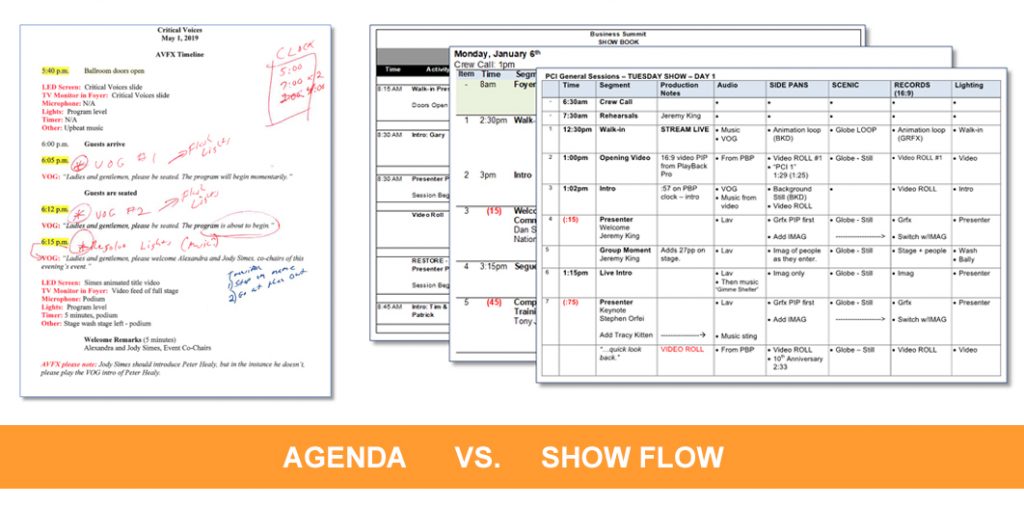 Download your own show flow template, developed by Steve Halling and Eric Newkirk, and keep your events running smoothly! Available here.
The show flow is a detailed document organized like a spreadsheet, with each department getting a column, including on-stage talent. Complex shows can have upwards of eight columns. The show flow includes everything the agenda has, but in far more detail. An agenda might list approximate times for each part of the event, such as Speaker A going on stage at 6:10 p.m., the show flow would break it down, noting the 46-second intro video, the lights that turn on for Speaker A when she walks on stage, which mic she will be using, if she's using slides, and so on.
The show flow is a collaborative effort between the meeting planner and the AV team. A clear show flow is critical for the AV team to be organized and perfectly in sync with the presenters, especially if the crew is larger than four people.
Survive the 'uh-oh' when the session goes too long/short
What if a speaker goes long or short? A clear show flow can help with that. It documents exactly how long something should take and all the component parts that make up a segment. Working off the show flow, the AV team can have clear communications with each segment owner or presenter before they go on stage to help avoid a segment going too long or short. And if a speaker does talk too long or not long enough, the show flow will help the event get back on track.
Keep presenters on-script
A common risk in general sessions is the presenter who goes off-script, or even worse, wants to improvise their whole presentation. This rarely goes well. Ever see a speaker go off-script and the AV team struggles to put the right slides on the screen? Or the speaker starts walking around—maybe even leaving the stage and going into the audience—and the stage lights can't keep up? That's what happens when the presenter goes off-script.
There's a school of thought in live speaking that says audiences want presenters to be less formal and more familiar. That rehearsing is too rigid. This is a significant risk for planners, because what the presenter doesn't rehearse, the event team can't prep for.
Meeting planners can have hundreds or thousands of details to manage for an event. Between F&B, housing, managing clients and on-stage talent, social events and more, a large event is a tornado of details whirling about. With these tips, your AV team can help you avoid Murphy's Law and "gremlin-proof" your general sessions, making at least one aspect of your event easier for you.
The Rental and Staging Network is comprised of 25 of the AV industry's premier live event staging companies. EPN members are consistently chosen by event planners and producers when they need events that wow. Representing 29 major markets across North America, EPN has you covered, no matter where you are. Find your local AV partner here.