Top 4 AV Trends to Try in 2020
Even if your 2019 events were successful, there's still plenty of exciting, cutting-edge, audio visual (AV) techniques to incorporate into your next event.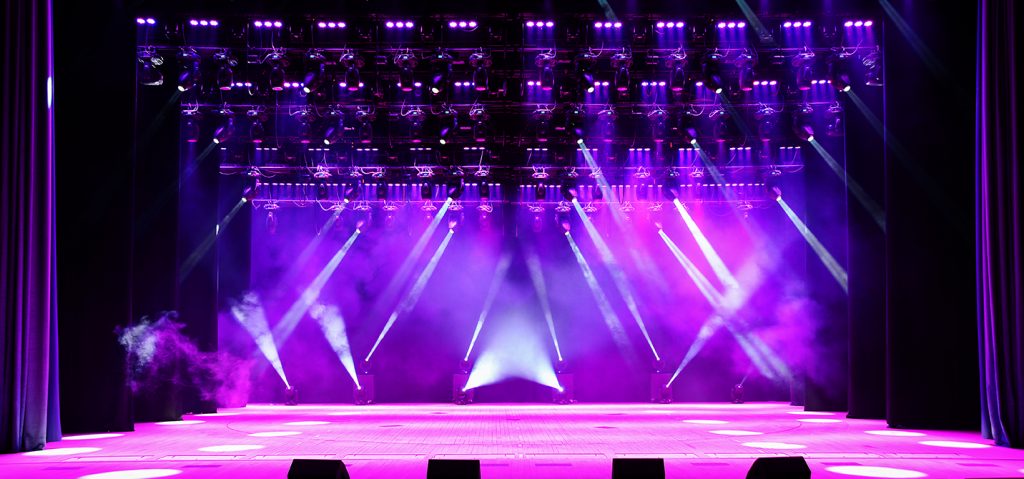 In 2020, event attendees are craving a unique "experience" and that means using high-impact AV technology to deliver an immersive and "Instagrammable" moment with content delivery that is exciting.
Trend #1. Bring Any Surface to Life with Projection Mapping
With its ability to captivate audiences in a compelling way, projection mapping has exploded across the events industry. It delivers the ultimate wow-factor for events, creating an immersive experience like no other.
"Given the development of new technologies, the lower cost and ease of implementation, projection mapping is positioned to be one of the most newly requested trends," said Chris Gerhart, president of Crescent Event Productions.
The two types of projection mapping—2D and 3D—allow objects or spaces of any size to become canvases for light. No matter what your space includes, projection mapping can pump new, vibrant life into it.
Use projection mapping to transform a stark wall into a masterful canvas. Create a buzzing skyline inside a foyer space or create a dramatic stage design behind a presenter.
In 2020, you'll find projection mapping everywhere from galas to conferences.
Trend #2. Create Dazzling Illusions with Holographic Imaging
The technology of the future, holographic imaging, is here today and trending at 2020 events. Beyond the traditional floating logos and displays seen at events, use it to incorporate 3D images into a set design or to add excitement to a presentation with 3D illusions and interactivity. Event planners can even leverage holograms to produce stunning promotions for sponsors.
Holographic telepresence video projection can be used to project full-motion, 3D images, bridging locations and pushing geographic boundaries.
"You can use it to bring remote presenters on stage in a visual way," Gabby Wallace, project manager at Media Stage, said. "It is more engaging than other forms of visual communication, especially when real-time audio is tied to it—the experience is close to reality."
Trend #3. Design a Transformative Experience Using Virtual Reality, Augmented Reality
Although nothing can replace face-to-face interactions, virtual reality (VR) and augmented reality (AR) will be shaking up the landscape in 2020. They are the perfect tools to educate, entertain and excite your audience.
In 2020, the question is not if you will be using VR, it's how you will be using it. VR completely takes over the senses—offering unparalleled engagement compared to a presentation or even a video. For trade shows, think about a 360-degree tour of a product or space or an immersive product demonstration.
"As prices rise for freight and exhibit booths and as labor prices increase, we have to engage audiences in new ways," Rick Pollock, president of Total Show Technology, said. "VR will be a huge part of exhibits and trade shows. Key products and equipment will be on-site, but larger, heavier gear that is expensive to transport will be demoed in a booth."
Already mainstream, AR tends to be used socially. It doesn't remove you from your surroundings like VR but combines real and virtual worlds with a smartphone or wearable glasses. Use it to showcase a product or to engage attendees.
There's a reason VR and AR command attention—people want to experience new things. These technologies are here to stay and the event space is the ideal setting to maximize the technology's potential.
Trend #4. Capture Attention with an Innovative LED Display
LED technology is on the front line of innovation, delivering creative ways for companies to take their displays to a new level. LED technology has created new types of equipment that were not possible a decade ago.
Pixel mapping, which is similar to an LED curtain, will be rolled out on a robust scale in 2020 and beyond. "Think about an LED wall that is flexible and able to conform to curved and nonlinear structures—that's pixel mapping," Gerhart said. "Combined with a software program, it can be used to bring 3D objects to life. Any type of content can be mapped, from a company's logo on loop to a product promotional video."
LEDskin is a revolutionary product for the exhibit building market, creating new opportunities and extra value for both modular systems and the LED marketplace. Coupled with a stand building product like beMatrix, LED tiles are automatically aligned with each other and to a frame system. The tiles are easily released and replaced with magnets.
For trade shows and conventions, LEDskin is a game-changing product—a sure-fire way to make sure your display stands out.
"LEDskin turns an exhibit booth into an eye-catching show place," Pollock said. "The days of static graphics in fixed locations are gone. With LEDskin, your graphics and videos can be formatted to fit anywhere in your exhibit and changed easily as needs arise. Content can even be changed from hour to hour during an event."
The same product can be used in unlimited designs. "Coupled with good content, LEDskin will help you capture attention from across the trade show floor," Pollock added.
If you need big video walls and an exceptional LED visual impact, LEDskin is your solution.

Leverage 2020 Trends to Get Your Audience Talking
In 2020, you are only limited by your imagination. It's all about creating a personalized experience for your audience and forging a connection with them.
Incorporate unexpected elements like AR or VR into the event, create a multi-dimensional set with a series of layered screens to transform the stage with LED lighting. Elevate a high-tech presentation or video with 4K Ultra High Definition Technology. Or use projection mapping to add a sense of drama.
"In 2020, the real impact is in the content and the visuals," Wallace said. "Think about what will keep guests talking and sharing on social media. They are likely to remember something visual and eye-catching."
Be creative with your event design. Think differently about the experience you want your attendees to have.
Members of the Rental and Staging Network (EPN) are at the cutting-edge of the AV world. With 26 members of the finest live-event staging companies across the country, they are equipped to help you deliver an immersive event that's engaging, interactive and persuasive. They are in every major market in the United States, Canada and Mexico.
The right technology and a skilled AV partner will take your event to the next level.