Live Streaming: How to Pull it Off Flawlessly
Does live streaming make sense for your event? The answer is yes.
There are very few times an event shouldn't be live streamed. And in today's experience-driven culture, audiences are expecting well produced, high quality live streams.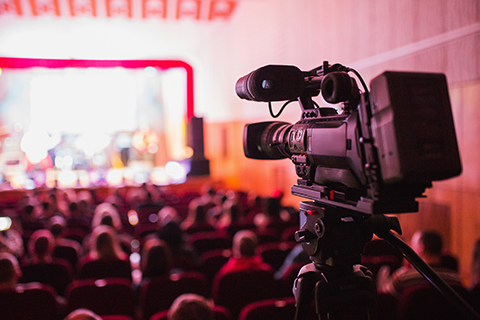 Rental and Staging Network (EPN) member Donald Guzauckas Jr., vice president and general manager of HB Live, Inc., outlines five live streaming best practices.
Tip #1. Create an Engaging Experience for the Remote Audience
For the remote viewing audience, the live stream should resemble a TV viewing experience. Creating a professional and engaging live stream involves many moving parts with the most critical aspect being the video production value. That means using high-grade video equipment, quality audio recording and competent videographers and engineers. Today's audiences have very short attention spans, so continually changing what the viewer sees in a planned, well produced way will keep the audience engaged. It can be accomplished by framing a shot, changing the screen according to the content, using video angles and dynamically shifting between video and content.
Tip #2. Don't Skimp on Staffing
There's always an element of "the unexpected" with live streaming—there are no do overs and there's no stopping. That's why it's important to ask your audio visual (AV) production company how many crew members they will have on-site to manage the live stream. Staffing isn't an area you want to skimp on. For example, some AV providers will have one person responsible for all of the streaming aspects—from handling the cameras to monitoring the audio and managing the streaming. That's risky. It requires one person to wear several distinct hats. When it comes to live streaming, it's always better to be adequately staffed rather than understaffed.
Tip #3. Discuss Your AV Provider's Failover Plan
Gear is everything. Even with a simple setup, there's still a chance equipment can fail. And with live streaming, there is only one chance to get it right. The ideal backup plan is one in which the entire system runs redundant on two distinct network circuits. In other words, two different computers are connected to two separate networks, which go out to two content hosts that have the ability to "failover" between those two streams. That's the ultimate backup plan. But 99% of the time, AV providers use a hybrid, where there isn't full redundancy, for example, but there may be two computers, and only one network.
Tip #4. Be Clear about Troubleshooting Responsibilities
Have a conversation with your AV team about who will oversee end-user trouble shooting. This is an important and often overlooked aspect of live streaming. Troubleshooting responsibility depends on the nature of the audience and the type of service provided. For a public audience, the AV production company should provide technical support. For the corporate audience, where there's an information technology (IT) team in place, the company's IT team should be the first line of support. Problems that end users face within a corporate setting are typically related to internal settings, software programs or firewalls and an AV company won't be able to resolve those types of issues.

Tip #5. Know Your Purpose for Live Streaming
Be clear about why you are going live. Have a conversation with your AV provider about how you plan to use the video before, during and after the event. Do you plan to repurpose the video? Will you embed it on your website, use clips for a teaser reel, share it on social media or simply archive it? Live streaming your event doesn't have to be complicated. Your AV production company will capture and edit the video differently, depending on how it will be used. The way a presentation is captured will make the difference between "blah" and "wow." A range of high-quality, yet affordable live streaming setups are available.
What's Next: After Your Live Stream
When it comes to creating an engaging live stream—good marketing and promotion are essential to ensuring a successful broadcast. Two indicators of success are viewership and watch time.
After your event, take a look at the numbers—how many people watched the live stream? How long did they watch? Where are your viewers geographically located? What are they saying on social media? A successful live stream will report as much engagement during the broadcast, as it does in subsequent days and months.
Working with the right AV provider makes it really easy to execute live streaming. A skilled AV partner like an EPN member will take your event to the next level.
Members of EPN are at the cutting-edge of the AV world. With 26 members of the finest live-event staging companies across the country, they are equipped to help you deliver an immersive event that's engaging, interactive and persuasive. They are in every major market in the United States, Canada and Mexico.